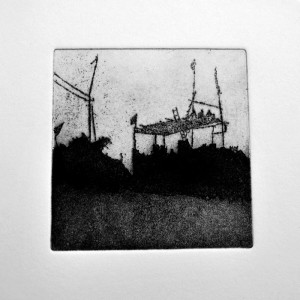 Every year I print an edition for the Blackstack Studio annual Box Set which is sold as a fundraiser to help with the running costs of our artist led print studio. We do 2 sets, available to buy online and we ship worldwide, check out http://www.blackstackstudio.com
This time I've made a small etching based on a drawing I did years ago at the camel fair in Pushkar in Rajasthan. In the evening the camel buyers and sellers set up camp in the desert at the edge of the town and construct temporary wooden structures; ladders and platforms to sleep on.
Box 1 has four prints, selling for 75 euro and Box 2 has five prints, selling for 90 euro. Paper size 19 x 19 cm and packaged in a handmade box. I'm in Box 1 this year and proud to be included with fellow printmakers Helen Robbins, Louise Allen and Nadia Cullinane, see below.