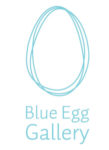 The Blue Egg Gallery is delighted to announce its first exhibition for 2020. Evocation is an exhibition of fine art prints by seven members of Blackstack Studio in Kilkenny: Maeve Coulter, Mary Cullen Kelly, Clara de Frutos, Sylvia Hemmingway, Jacqueline O'Neill, Frank Rafter and Helen Robbins. The title does not refer to a specific theme but rather to the fragile and evanescent impression made by many of the images, which will draw you into the artist's world.
If you are interested in the art of printmaking, you will be delighted by the variety of printing techniques used by the artists, participating in this show: etching, linoprint, photopolymer intaglio print, aquatint, screenprint, cyanotype and photography.
Blackstack Studio was established in Kilkenny in 2011. The fine art printmaking studio was set up by a group of five volunteers who worked in partnership with Kilkenny County Council Arts Office, to address the need for access to print facilities in the South East. Support from the Design and Crafts Council of Ireland and ArtLinks also helped make the studio possible.
Blackstack Studio supported artists, craftspeople and designers from Kilkenny and surrounding counties, by providing access to silkscreen and intaglio printmaking facilities. Blackstack Studio closed down during the Covid-19 pandemic and sadly won't be re-opening in its current form.
The exhibition opens on Sat 18th July. Unfortunately, Covid-19 prevents us marking the opening of this exhibition with a reception and a talk by a guest speaker. But don't let that discourage you from visiting the gallery to enjoy this fine exhibition, which runs until Sat 22nd August. The gallery opening hours are Tues to Sat from 11.00am to 5.30pm. We look forward to seeing you.