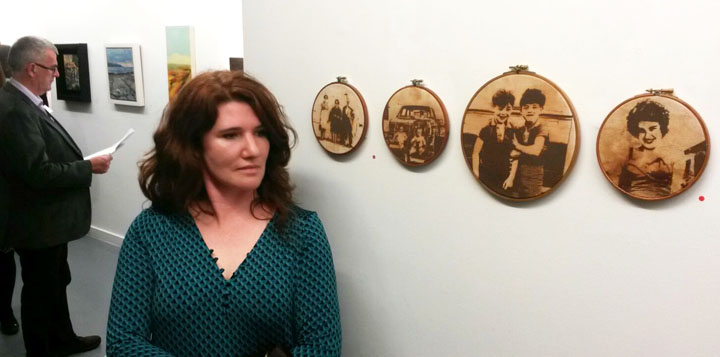 I'm delighted to have been chosen for the curator's award at glór exhibition Halcyon Days. Here's some info from the glór newsletter…
Halcyon Days in glór Gallery: A Major Group Exhibition of 25 Artists
Halcyon Days, currently running in glór's gallery is a major group exhibition of mixed media work from both established and emerging artists.
Artists nationwide were asked to respond to the theme of Halcyon Days, a phrase which we now use nostalgically, recalling the seemingly endless sunny days of youth.
Submissions flooded in from all over the country and glór now presents a remarkable exhibition featuring work from newly graduated artists, as well as from more established artists. The exhibition also showcases the exceptional standard of visual arts in Co. Clare with a significant Clare representation.
A Curator's Award of €2500 was awarded by glór to Maeve Coulter. Maeve trained as a printmaker in Limerick School of Art and Design and later studied fine art textiles in Crawford College of Art and Design.
In this edition, we profile three of our artists – Curator's Award Winner, Maeve Coulter, Photographer Mark Baker and Clare Painter, Nathalie El Baba. A full catalogue is available on www.glor.ie
Halcyon Days runs in glór's gallery and foyer spaces until January 13th . All artwork is for sale and offers a chance to own a superb piece of Irish art.
Maeve Coulter
Kilkenny based Maeve Coulter and Curator's Award Winner is a visual artist, a printmaking tutor at Grennan Mill Craft School, Thomastown and the founder/director of Blackstack Studio, Kilkenny. She has a BA in Fine Art Print from LSAD and recent selected exhibitions include The Printmakers Council Mini Print Prize Exhibition, London, (upcoming); The Awagami International Print Exhibition, Tokushima, Japan and Thread Song, The Model, Sligo and glór, Ennis.
'I use intaglio and screen-printing techniques, photographic imagery and found objects that are significant to me. I transform cloth and paper by printing, dyeing, rusting, folding, layering, pleating and stitching. The Reparation series of rust prints relates to my attempts to preserve memories and ward off the inevitable cycles of growth and decay, life and death. I use family photos that are personal but universal. I screen-print but replace the use of ink with flocked iron filings. The image rusts, reflecting the notion of decay, and a simple darning stitch is used in an attempt to repair.'